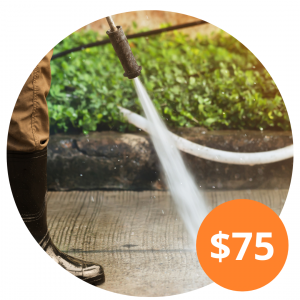 Power Washing Service
INCLUDED
OneGuard will perform the following for a service fee of $75.00:
One Hour (up to 400 sqft) of Power Washing: Recommended for unpainted driveways, garage floors, sidewalks, patios, and walkways. No stucco surfaces. 
Services at heights greater than 12 feet will result in additional fees.
Use of industrial grade pressure washer
NOT INCLUDED
Moving of furniture or items in the desired washed area
Power washing of painted surfaces, finished surfaces, or stucco surfaces
Scrubbing of surfaces or guarantee of stain removal
Removing of debris from the sprayed area
Detergents or soaps
Please Note: The one hour starts as soon as the service provider arrives at the home.
ADDITIONAL FEES (PAID TO THE SERVICE PROVIDER)
Anything over the allotted (1) one hour of service or more than 400 sqft may result in additional fees.
Order online or by calling OneGuard at 888.896.0014!
*Services may not be available in your area and may only be available for a limited time. Services must be scheduled within 60 days of the service order date.